The Green Pallet 1200x800x150mm
Dimensions: 1200x800 mm

Height: 150 mm

The distance between pallets when stacked is 65 mm.

Weight: 16 kg

Dynamic load: 1000 kg

Logistics: 24 pallet spaces (120x80x254 cm)
Read more
The Environmental Pallet makes a difference. That is why it wins awards the world over. 

The Environmental Pallet did not come about by chance. It has taken a lot of hard work to design a pallet that actually makes a difference, not just for you who handle it, but also commercially and not least environmentally.

The Environmental Pallet is easy to handle, space-saving and a true environmentalist. In figures it looks like this: 40 per cent fewer return transports, 40 per cent better stackability, 40 per cent reduced weight, 40 per cent reduction in carbon emissions and 100 per cent recycling and reutilisation. 
A loading pallet that makes a difference!

IP Group's patent-pending Environmental Pallet won the 2013 WorldStar prize for the world's best transport solution. The prize is awarded by the World Packaging Organisation (WPO). WorldStar is the world's most prestigious packaging competition. The fifty four international WorldStar winners meet in Sydney, Australia, to receive their awards.

In 2012 our environmental pallet also received the ScanStar award for the best Nordic transport solution. 
A closed-loop system with a deposit.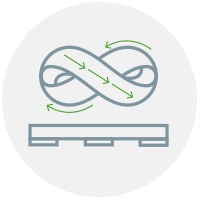 The Environmental Pallet is made from​recycled plastic polypropylene (PP). It is 100 per cent recyclable with an expected service life of 6-10 years. The material can be recycled up to ten times (new environmental pallets) and then be ground down and reused to make lower quality PP products.
Space costs money. This is why we are tight with our space.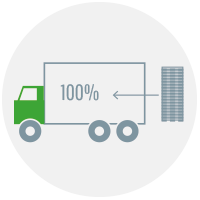 The smart design of the Environmental Pallet enables you to stack 24 pallets per stowage compared to the wooden pallet's 16. Because you can load many more pallets it reduces the number of lorries, the amount of storage space, the number of transports and your carbon emissions. By 40 per cent!

Stacked pallets are straight, stable and easy to handle. A truck's forks glide in easily (65mm space) to lift out the required number of pallets from a stack. This avoids manual lifting, creating a safer and healthier workplace.