*Reduces costs and protects the environment, *Creates a better working environment, *Optimize turn around time, *Cost-effectiveness, *Reduces loss, damage, and absolute equipment, *Improved logistic circle, *No Capex (Capital Expenses) by leasing
Feel free to download the story of THE 40% EFFECT by Mr. Loop and read about how we create Sustainable Development and our focus on Circular Economy 

Smart products for your logistics in The Green Pallet Pool
At IP-Group we are passionate about smart logistics solutions and products. Our goal is to live up to the global goals and to turn our customers into winners at the same time. It really comes down to one thing. Transporting air is costly. In every way.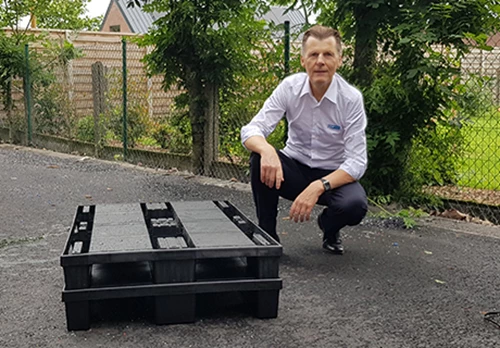 The New Generation Environmental Pallet 1200x800x150mm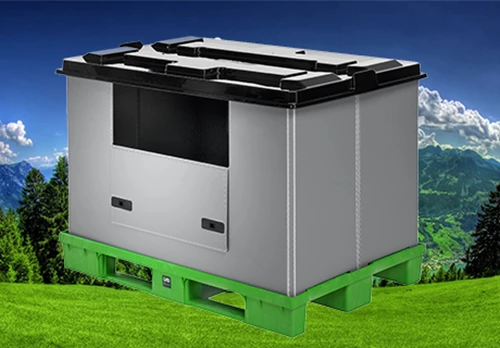 Ecopack with Green Pallet, sleeve and lid 1200x800mm. Sleeves in different heights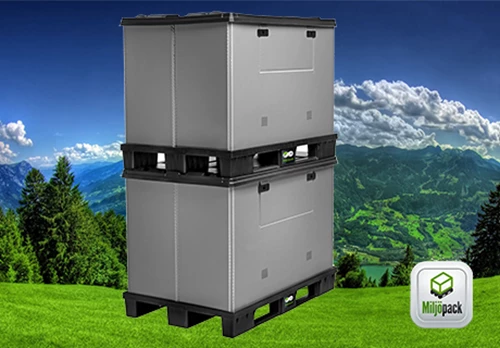 Ecopack double-stacked 2x1200x800 mm. We design sleeves according to the customer's needs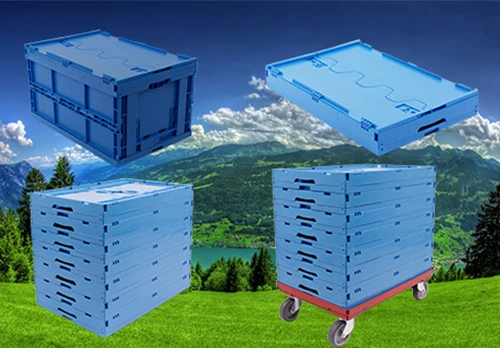 Logistic transport crates of various sizes and heights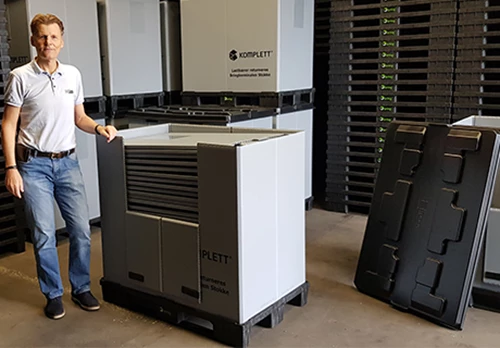 Sleeves with loading door short or long side. Or both sides. Height adapted to the customer's goods and transport optimization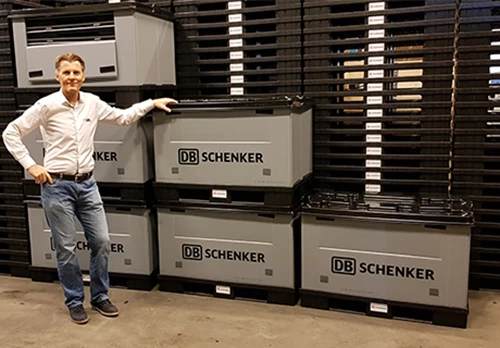 Logo on sleeves and pallet
The Pallet Pool provides value and sustainable development
Initial meeting, preliminary study and proposal
INITIAL MEETING: We present the IP-Group concept and Green Pallet Pool. This includes how it works, its benefits and what advantages you will receive to be included in the distribution system. We provide the details around the savings you'll make and how it will contribute to less environmental impact.
A form of minimalism runs through our operations like a silver thread. We work hard to find solutions that save on costs, the environment and space. A close dialogue paves the way to joint success. Or as we usually
say: If you win, we win. We will provide our customers with an Analysis including the presentation of alternative solutions.
 STEP TWO: We will provide our customers with an Analysis including presentation of alternative solutions. After a certain time, we will reevaluate your operations and address recommended improvements, if necessary. The aim is to reduce costs and CO2 emissions by up to 40% by focusing on the circular economy.
PROPOSAL: Based on the preliminary study, we make a proposal with a focus on the greatest potential for income and savings. With IP-Group's help, you will save time, space, money and a good climate footprint.
Evaluation and implementation
EVALUATION: Changing pallet systems is no small task. We are well aware
of that. Which is why we have created the IP Group Concept. A turnkey solution that is implemented in your company's mode of operation and where we will train you in how to achieve greater efficiency, increased profitability and reduced costs. After a while, we do an evaluation to quality assure that everything is working properly or whether we need to change some parameters for optimal efficiency in the flow.
IMPLEMENTATION: We are present throughout the process to create security and ensure that everything works for all users. Through the Lean & Green Academy, you become part of the team focusing on improving the company's strategic work with environmental and resource efficiency. Because we are convinced that the environment and sustainability are increasingly becoming a "business license" in the form of both competitiveness and environmental responsibility from a social perspective. The goal is to create value for our customers and partners. A value that focuses on balance in terms of costs, competitiveness, and environmental improvements.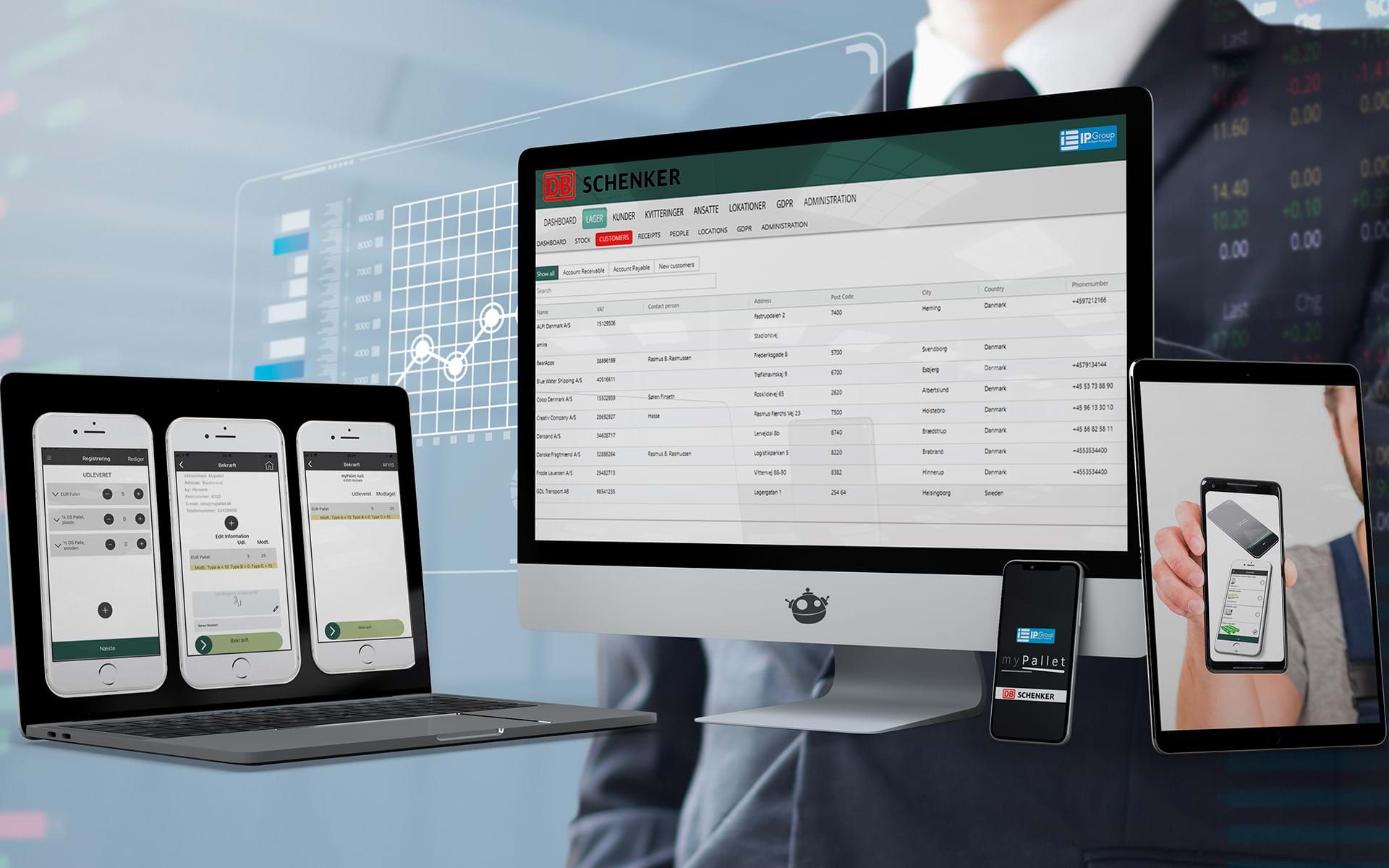 We take care of your values
OUR VISION is to minimize the transport chain costs associated with packaging management in the context of packaging management. OUR MISSION is to increase the recycling of the same packaging type. OUR OBJECTIVES are to conserve natural resources. SIMPLICITY. Through our creative mindset, we strive to understand our customer's needs and through close collaboration, achieve our customer's goals and thereby ensure the best possible result. We elucidate and will document administrative savings in connection with the use of our software and/or ensure improved self-control with the company's packaging flow and thus eliminate the loss of transport packaging. WE CREATE SAVINGS. Through competent employees, we also put pride and honor in marketing quality solutions adapted to today's demand for a digitized product at a competitive rate. Please click and read more

Do you join the winning team?
Relationships create results. This is something we firmly believe in at IP-Group. As part of that philosophy, we regard and value all our customers as partners. A close dialogue paves the way to joint success. Or as we usually say: If you win, we win. As our company name suggests, we supply intelligent packaging. We develop, sell and rent out intelligent and cost-effective packaging systems in 100 percent recyclable plastic and aluminum. It will help to create value for our and our customers' shipments, while through its design and together with our recycling systems it will reduce carbon emissions. And you join the path for sustainable development and put your footprint on the circular economy. Feel free to download the PDF Environmental Pallet Concept Manual. 

By submitting your contact information you will have the opportunity to test 3 New Generation Environmental Pallet and Ecopack free of charge for one month. This is exactly why I value you as a partner. 
IP-Group AS
Geir Vidar Persen
Sales Director
Cellphone: +47 960 49 556
Do you join the winning team?