RENTAL
Would you like to avoid binding up capital and putting a strain on the company's cash low? Then pallet rental could be the answer. Start saving now!
Renting has several advantages. You often avoid a drawn-out approval process for the investment and you do not need to bind capital and put a strain on the company's cash low. You pay a monthly fee for the Environmental Pallet that is lower than for the wooden pallet. You also beneit from an immediate 40 per cent saving on return transports and storage, thus reducing the monthly costs even further.
THIS IS HOW IT WORKS:
You decide to invest in the Environmental Pallet. A contract with the IP Group informs you of the terms and conditions. The normal rental period is between three and ive years depending on your needs.
The fee can be ixed or lexible and with a rental agreement you can keep your payments within your budget.
FACTS ENVIRONMENTAL PALLET

Item: IPG 1208
Dimensions: 1200 x 800 mm
Height: 150 mm
Weight: 16 kg
Load: 1000 kg dynamic
Material: REPP
Logistics: 24 per stack

 

Suitable for:
Pallet Racking Systems
Belt Conveyors
Chain Conveyors
Wrapping


Suits crates with dimensions:
800x600 mm 400x300 mm
600x400 mm 300x200 mm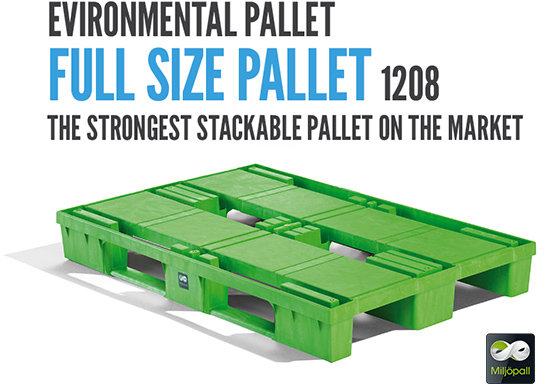 WHY ECOPACK
Rationalises outlows and returns
Protects the products
Stackable for transportation and storage
In-store product exposure
Possible to partition different products
Avoid wrapping
Replaces disposable packaging
Reduces wasted resources
Ecopack's walls can be ordered in the exact height required. The standard colour is grey but other shades are available for larger volumes.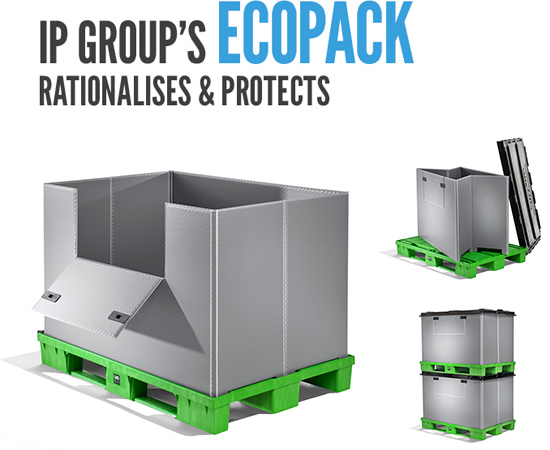 FACTS ENVIRONMENTAL PALLET

Item: IPG-6080
Dimensions: 600 x 800 mm
Height: 150 mm
Weight: 7 kg
Load: 500 kg dynamic
Material: REPP
Logistics: 48 per stack

 

Suitable for:
Pallet Racking Systems
Belt Conveyors
Chain Conveyors

 

Suits crates with dimensions:
800x600 mm 400x300 mm
600x400 mm 300x200 mm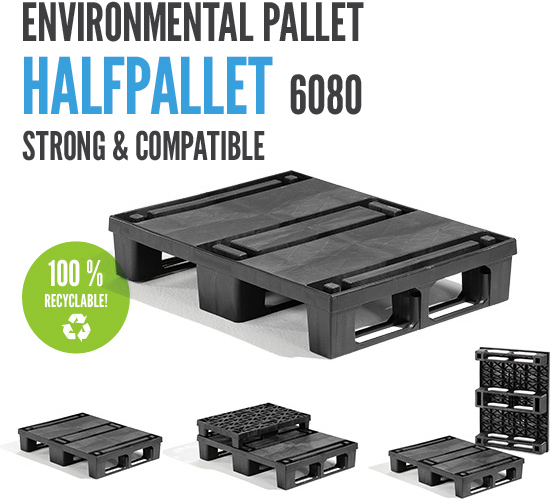 FACTS ENVIRONMENTAL PALLET

Item: IPG-6040
Dimensions: 600 x 400 mm
Height: 150 mm
Weight: 2,4 kg
Load: 250 kg dynamic
Material: REPP
Logistics: 96 per stack

 

Compatible with
Environmental Pallet FULL SIZE PALLET 1208
Environmental Pallet HALF PALLET 6080

 

Suits crates with dimensions::
600x400 mm 300x200 mm
400x300 mm

 

Options
Locking of bottle packaging